Important Dates:
4/8 – Spirit Day 
4/8 – Boot Season Officially Ends at the End of the Day
4/9 – 4/18 – SPRING BREAK – NO SCHOOL 
4/19 – 4/30 – ILEARN testing timeframe for grades 3 – 8.  Please make sure students come to school well rested and try not to schedule outside appointments during this time.
4/22 – 4th / 5th Grade Game Night.  Please see attached flyer for details.  Waiver & fees due 4/20.
4/22 – 8am PTO Zoom Call / Charity Day (Vocations of Diocese)/ Cabos Mexican Rest. Dine to Donate (11am – 10pm)
4/23 – MidTerm Reports emailed for grades 3-4 / Check PowerSchool for grades 5-8

Spring Fling 2021
Mark your calendars for this year's Spring Fling, St. Maria Goretti's largest annual fundraiser. Spring Fling Music Fest will be held at SMG on April 23rd and 24th. Our Spring Fling team has an exciting lineup of performances planned for both Friday and Saturday evenings, while we raise funds to grow the parish's evangelization and outreach efforts. The schedule includes concerts by two Catholic performing artists and will feature SMG's Music Ministry, school choir & band. For more information, see the attached flyer or visit smgonline.org/springfling. Questions? Please email springfling@smgonline.org.
 https://www.allprodad.com/raceconversations/
Teaching Your Child How To Ride. Bicycle
Vacation Bible Camp registration
CLOSES MAY 1
. Camp is June 7-11, 9am-noon each day for 4 year olds by June 4th through outgoing 3rd graders. 
smgonline.org/vbc
DID YOU KNOW BY PTO?

Supply Kits
It is hard to believe, but it is now time to start thinking about Back To School supply kits. Sit back, relax, and let the PTO take the work out of back to school supply shopping.  Kits will be delivered to school and will be at your child's desk on Back to School Night.   Our online site is now active and can be found at:    http://1stdayschoolsupplies.com/kits.php?sid=38221
Field Day Update and Changes
PTO has been given the green light for our 2021 Field Day.  It will take place, rain or shine, on the last day of school, May 27, for JK-5th grades.  It will be a half-day event and we need LOTS of parent volunteers.  (Sixth and seventh will be doing their own thing with Mr. B.)  Volunteer sign up pages will go live after Spring Break.  Field day will be followed by an all-school picnic with families invited to join. 
  4th/5th Grade Game Night Announcement – Thursday, April 22.  Payment due by April 20.  Please see attached flyer for details.
  For lunchroom volunteer sign-up day.  Please click on the link to sign up.
https://signup.com/client/invitation2/secure/8629775660116/false#/invitation
Lunchroom volunteers needed:        April             –  1
                                                          May              – 10
*If you cancel within 48hrs prior to sign up date, please find someone to switch spots with you*
Nurse News
Covid update  Parents thank you for your help and understanding during this school year. Our SMG families have all been very helpful with masks, water bottles, quarantine and keeping nurses informed. Please continue to call if a family member or your student has covid symptoms or is a known "close contact" to someone with a positive covid test.   A close contact is defined as a person who has been within 6 feet for a total of 15 minutes during a 24 hour period. Please see the attached sheets for covid information including isolation, quarantine and test centers.  If your student has any of the following symptoms, please keep them home, call your health care provider as needed and call the nurse attendance line or Mimi Burnside @ 317 682-8207. The nurses are following CDC guide lines and in contact with our Hamilton county health department for weekly updates. Each illness, each close contact has unique details. Please let us know specific symptoms and details so we can contact you with actions to stop the covid spread and keep our students healthy.  
Temperature 100.0 degrees F or higher when taken by mouth
Sore throat
New uncontrolled cough that causes difficulty breathing (for students with chronic allergic/ asthmatic cough, a change in their cough from baseline)
Diarrhea, vomiting or abdominal pain
New onset of severe headache, especially with a fever
Loss of taste or smell
If my student has covid symptoms, what test do I need to return to school?
2 tests are available. A "rapid" test which is also called an antigen or POS test. The other test is a PCR also called NAAT or other names.  If your symptomatic student receives a rapid test, waits 15 minutes and the test is positive, then your student needs to isolate 10 days from the onset of symptoms. IF your student has symptoms and the rapid test is negative, you need to ask the testing center to obtain a PCR because approximately 1 in 3 rapid tests are NOT detecting covid positive cases. The PCR typically takes about 2-4 days to return. Your student needs to quarantine away from all family members while waiting for the results. If the PCR is negative, send the test result to the nurse and your student can return to SMG when symptom free and fever free for 24 hours. If the PCR is positive, please call Mimi Burnside. Your student needs to isolate 10 days from the beginning of symptoms.
One exception. If you or your health care provider finds another definite cause for symptoms, such as premenstrual cramps or strep throat, inform the nurses or your MD can write a note to return to school without the covid test.
For any testing questions, please call Mimi Burnside (317) 682-8207
Spring break International travel
Please call or email the nurse office nurse@smgonline.org if you are traveling outside the U.S. for spring break.  Families must follow the CDC international travel recommendations before returning to school:
-Get covid tested 3-5 days after travel and quarantine at home for 7 days after travel….or
-If you do NOT get tested, quarantine at home for 10 days after travel.
-Your student must be fever free, symptom free.  
-After return, avoid visiting high risk people (chronically ill, elderly, immunosuppressed) for 14 days after travel.
Schedule your Immunizations!    notice for 5th grade parents:          
11 year olds entering 6th grade in Indiana are required to receive the meningitis vaccine, and an updated tetanus/pertussis vaccine known as "Tdap"  . The "tetanus booster" cannot be received until after the 10th or 11th birthday (depending on the drug manufacturer). This vaccine has dramatically lowered the number of pertussis cases in middle school and high school students in Indiana. The meningitis vaccine has reduced incidents of this serious disease in our adolescent and young adult group. Make sure all vaccines are received before entering 6th grade.  
Nurse email: nurse@smgonline.org
—————————————————————————————————————-
Sports News 

SMG Safety Requirements document is attached below dictating actions to be taken by players, coaches, and spectators viewing events.  Currently each gym has a spectator limit of either 1 or 2 per participant.  Please take the time to read the attachments before attending games. Thank you!
Attention those interested in coaching:
We need your help coaching these sports. 
Contact Sean Bird s.bird@smgonline.org to share your time and talent.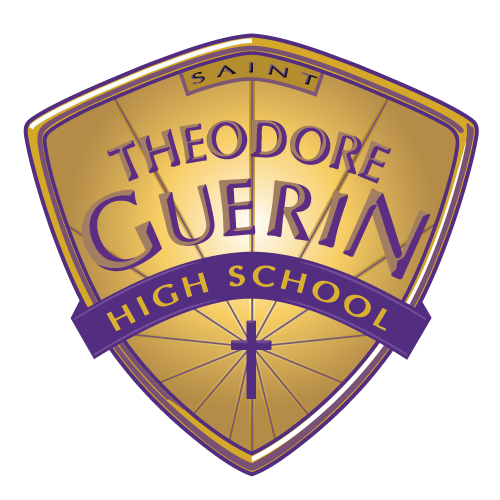 GUERIN CATHOLIC HIGH SCHOOL NEWS

Please note Guerin Catholic High School will be on Spring Break April 9 – 16. The school offices will be closed during this time.
Visit GuerinCatholic.org for more information and to register for the following events:
SPORTS CAMP WITH JOE REITZ
Saturday, May 8
1-4:30 pm
Family Mass at 4:30 pm – parents and siblings welcome!
Boys in grades 1-5 are invited to a Sports Camp with former Indianapolis Colt Joe Reitz at Guerin Catholic High School. Cost is $30 ($20 per additional sibling, $50 max per family), and includes a camp t-shirt and an autographed photo of Joe Reitz!  Visit GuerinCatholic.org for more information and to register.
CAMP PURPLE 2021
Join us at our summer camp program for grades K-8!
Guerin Catholic's Camp Purple offers a variety of athletic and enrichment camps for students in grades K-8. Camp descriptions, fees and registration are available at GuerinCatholic.org. 
ADMISSIONS NEWS
Applications are still being accepted for the 2021-22 school year. Apply at GuerinCatholic.org.
GUERIN CATHOLIC SHOWCASE
Wednesday, April 21
9:30-11:45 am
Interested in learning more about Guerin Catholic High School for Fall of 2021 but unsure of where to start?  Join us for a Guerin Catholic Showcase on Wednesday, April 21 from 9:30-11:45am and hear from a variety of GC administrators, teachers, coaches, admissions representatives and a current Guerin Catholic student. Parents and students will have the opportunity to tour our building and visit classrooms featuring state-of-the art technology upgrades that accommodate distance and in-person learning. Observe the interactions between our teachers and students, and discover why students LOVE coming to Guerin Catholic every day! Guests will also have the opportunity to visit Guerin Catholic's beautiful St. Joseph's Chapel and walk through our courtyard. Students will spend 30 minutes of 1-on-1 time with a current GC student while parents meet with a member of our Guidance Department.  Register at GuerinCatholic.org.
HIGH SCHOOL PLACEMENT TEST (HSPT) SUMMER PREP COURSE FOR CURRENT 7TH GRADERS
Cost: $95
Summer Prep Course Dates: June or July
Morning and afternoon sessions available
Register at GuerinCatholic.org.